This post is also available in: Malay
Small to medium sized businesses benefit from stream lined operations and gain efficiency with ABSS.
Employees are empowered by having real time information when needed and can be more responsive to customers.
e-Invoice implementation in Malaysia
e-Invoicing will be implemented in Malaysia starting from August 2024 for businesses with RM100m turnover or more.
MYOB is now ABSS
In South Asia, MYOB was re-branded as ABSS in January 2018.
The solution is the same, but there is now more focus on the way Asians conduct business.
ABSS is Windows 11 compatible
ABSS, or Asian Business Software Solutions, has conducted compatibility tests on all their solutions and have confirmed that the latest versions are Windows 11 compatible.
Accounting solutions
ABSS, formerly known as MYOB, is an award winning accounting and business management solution for Asian businesses.
It enables you to manage your business with little or no accounting knowledge.
Your business processes are fully automated and the information flows through to every area in your business.
Features of ABSS Accounting solutions include:
Real time
Transactions are updated in real-time, so you have the information you need, when you need it.
Every time!
Fully Integrated
When you enter a transaction, it flows through to the relevant modules.
For example, when you create a sales invoice, the Accounts Receivable, Inventory and General Ledger is updated for you!
Single entry
No need to struggle with accounting terms and concepts.
Just go about your normal business transactions like issuing a sales invoice, receiving payments from customers, and ABSS takes care of the accounting for you.
ABSS Accounting
ABSS Accounting is a complete business management solution that automates and simplifies your accounting, banking, sales, purchases and inventory control.
It is flexible and easy for you to adapt to your business processes.
Accounting is a single user solution, which means only one person can update transactions at any one time.
ABSS Premier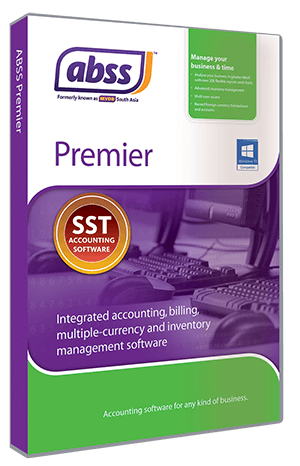 ABSS Premier is single and multi-user business management and accounting solution that has:
multi-currency accounting,
multi-location inventory management,
quantity price breaks
and more…
ABSS Premier also has Time Billing feature that is ideal for professional firms that invoice clients based on time and/or activity.
Difference between ABSS Accounting and ABSS Premier
As you can see from the above, there are 2 different solutions for Accounting from ABSS.
If you are unsure of which one is best suited for your requirements, please watch our video titled ABSS Accounting vs ABSS Premier.
It highlights all the differences between the 2 and will help you decide which one to choose.
This post is also available in: Malay