Generating invoices on a timely basis and sending it off to a customer ensures the inflow of cash, the life blood of every business.
Both ABSS Accounting and ABSS Premier feature a comprehensive invoicing module that fits every need a business may require.
ABSS Sales Invoice Layouts
Item sales layout
The item invoice layout is used by businesses who buy and sell stock.
It provides a column for entering quantity, and selecting the stock item that is being sold.
Service sales layout
The service layout on the other hand is used by businesses that provide services.
You can use both layouts in your business.
For example, if you engage in both selling of products as well as services, you can switch between the layouts as required.
Invoice features
For invoicing, some of the more standard business requirements are as follows:
Customer name and address
ABSS features a card file that maintains this for you.
All you need to do is create and save customer details once, and just select the record each time you need to invoice that particular customer.
ABSS fills in the address so you don't need to key it in every time.
The address also includes details like contact person, telephone and fax numbers, etc.
Invoice number
With ABSS, you can enter up to an eight digit number.
These numbers increment automatically so you don't need to remember what the next number should be.
Invoice date
When you create a new invoice, ABSS automatically takes the current date from the system date.
You can change it if necessary.
Terms of payment
You can define a number of terms of payment, including:
Cash on Delivery
Prepaid
Number of days from invoice date
You can set these terms for each customer or you can select and set a payment term each time you invoice.
Line descriptions
Description of what you are invoicing the customer for.
Enter one or more lines for each item sold or service rendered.
ABSS also caters for descriptive or header lines as well as subtotals.
There's more!
In addition ABSS offers the following options for your invoicing needs:
Salesperson
Track sales by salesperson and export sales by salesperson to Excel for commission computation.
Freight or transport charges
Enter the transport charge, if any, for a particular invoice.
Tax
Compute tax on each line, for example sales tax or service tax.
You can have separate tax rates for each line.
Shipment method
Specify shipment method for each invoice.
For example, if you operate a fleet of vans or lorries for transporting your goods to your customers, you can select which van/lorry.
This helps organise your deliveries according to shipment method.
Jobs
If you engage in projects or simply wish to track sales by departments, use the job feature in ABSS to manage income and expenses.
Comprehensive reporting provides you with income and expenses statements for project or department profitability.
In addition to the above ABSS Premier enables invoicing in foreign currency.
If you sell to customers overseas, you can create and send invoices in any number of currencies and track what the customer owes you in both your local as well as the invoiced currency.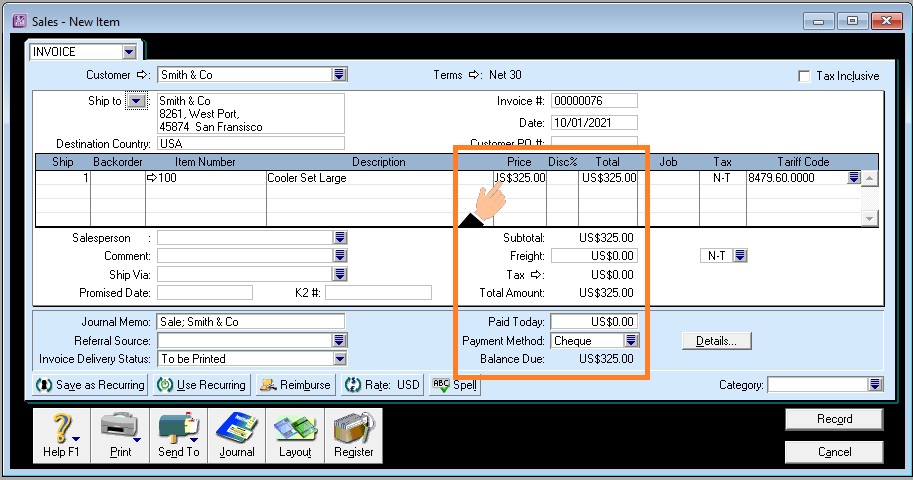 Customising printed invoice
ABSS provides a WYSISYG (What You See Is What You Get) interface that you can use to customise your printed invoice.
Arrange fields according to your requirement.
Include your company logo on the invoice, select different fonts, font sizes, font colours, etc, and include any custom text like "Please make cheque payable to ABC Sdn Bhd".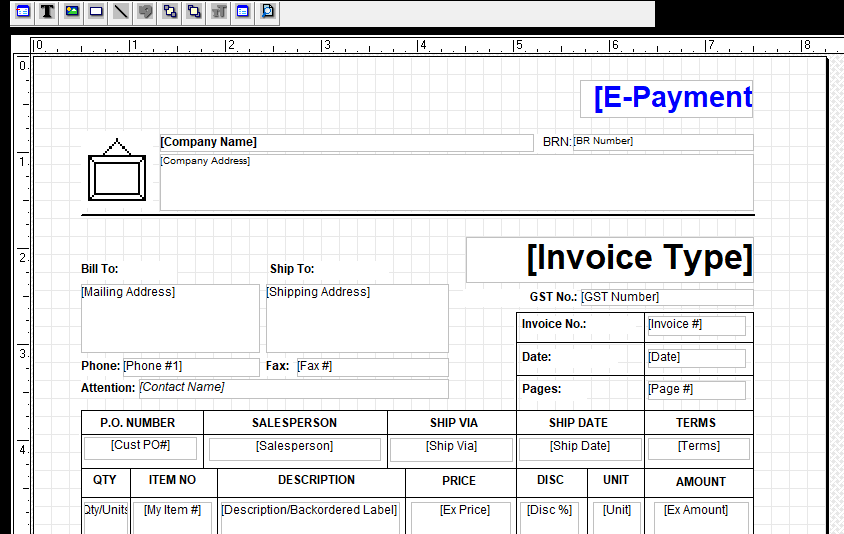 Behind the scenes
In every business, while creating and sending invoices to customers on a timely basis is critical, it is equally important to:
Keep track of each invoice issued
Send statements to customers, also on a timely basis, to ensure that you are paid promptly when invoices are due.
Keep track of which invoices have been paid and which are still outstanding.
Analyse sales, not just in terms of dollars and cents, but also in terms of:

Who are your biggest customers?
Which products are services are you selling the most?
And so on….
What about Accounting?
Here is where ABSS really shows its forte.
Unlike with some accounting or billing applications where posting to GL and AR are on a batch basis, ABSS updates on a real time basis
When an invoice is recorded or saved in ABSS, the necessary details are updated in real time to the General Ledger, Sales Register as well as Accounts Receivable.
What this means is it that as a business owner or manager, you have instant real time information at your fingertips, making it easy for you to Mind Your Own Business!