This post is also available in: Malay Indonesia
There are essentially two ways you can try out ABSS and evaluate if it is suitable for your business.
The first is to try it out using the sample data file, and the second is to create a new data file.
If you would like to try out ABSS Accounting or ABSS Premier to ascertain if it is suitable for your business, you can download a trial version and use it for 7 days.
Once you have downloaded and installed ABSS, you can try it out either by using the sample data file provided, or creating new data file.
The sample file has already been setup with data that you can use to test each of the many features in ABSS.
If you create a new data file, you will need to setup preferences and some master data like customer and supplier information before you can start using it.
Data files that you create have a trial period of seven days, after which it will become read only if not activated with a serial number.
Exploring ABSS with sample file
To use the sample data file that is installed along with ABSS, click on Explore as shown below:
When you click on Explore, ABSS will automatically open the sample file for you.
The User ID for the sample data file is Administrator, and no password is required.
Exploring ABSS by creating a new file
To create a new company or data file, click on Create.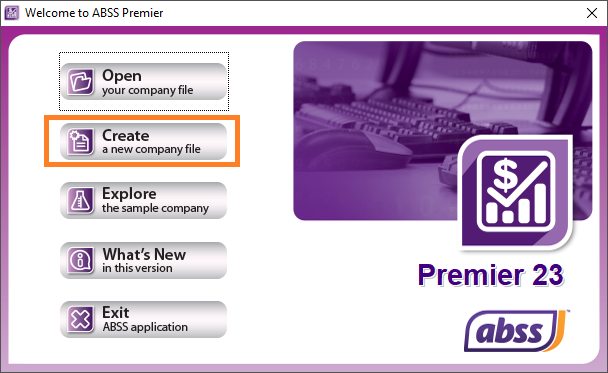 You can follow our step by step video tutorial to create a new file – Create a company file in ABSS
Exploring ABSS by opening an existing file
To open an existing ABSS file, in the Welcome screen, click on Open.
By default, ABSS saves the company or data file to the application directory, for example C:\ABSS Premier [version] or C:\ABSS Accounting [version].
The company files have the .myo file extension.