This post is also available in: Malay Indonesia
The ABSS Sales Register is like your Sales dashboard.
You can view all invoices, invoices that have not been paid, etc., as well as perform sales related functions like invoicing and receiving payments from here.
To access the Sales Register, in the Command Centre, click on Sales, then Sales Register.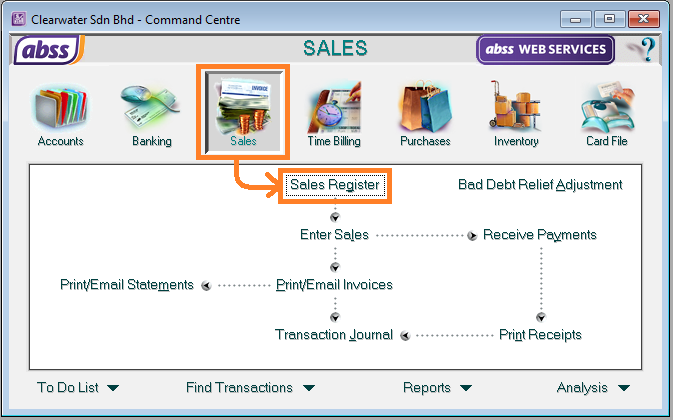 Filtering information
Date Filters
The Sales Register is filtered by date.
When initially opened, it will use your system date to display invoices.
For example, if today is 15th June 2020, then it will display invoices from 1st to 30th June 2020.
To view invoices from other periods, click in the Dated From and To fields and change the dates accordingly.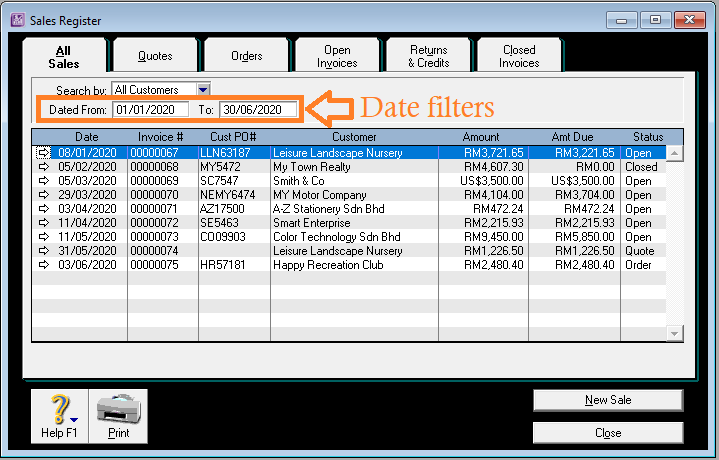 Customer Filter
Information in the Sales Register can also be filtered by customer.
In the Search for field, select either All Customers or Customer.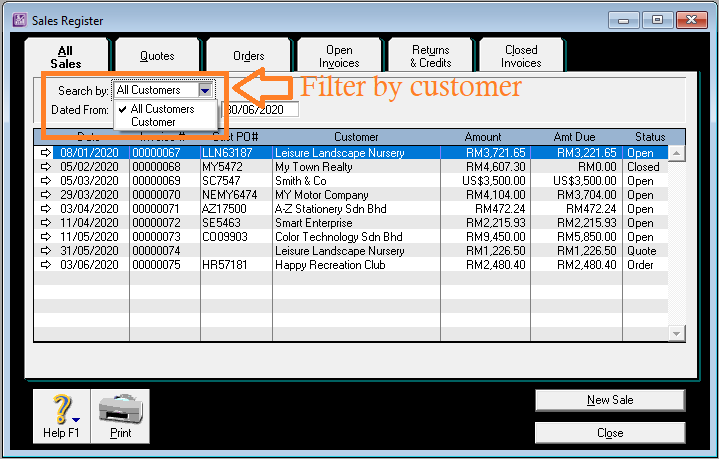 When you select to Search by Customer, a new field is displayed.
Key in the name in that field and the sales will be filtered to show only sales related to that customer.
Tabs
The tabs at the top help you filter sales by the status of the invoice.
All Sales
All Sales shows all invoices, quotes, orders, etc.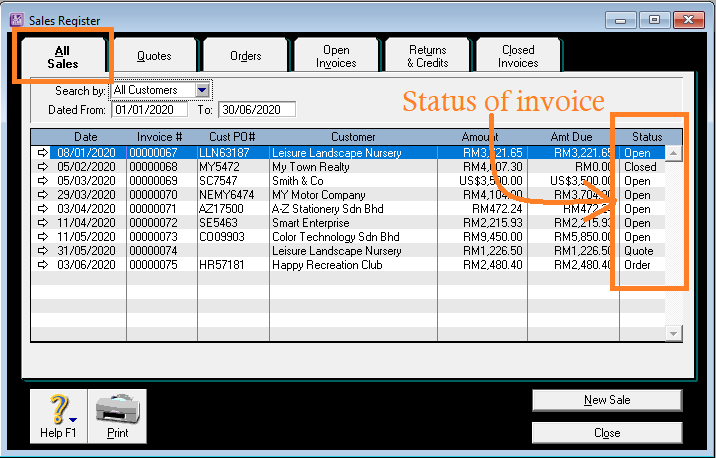 Quotes
The Quotes tab displays only quotations that you have entered during the selected period.
In this tab, you can select to create a new quote or select an existing quote and change it to an Order, to an Invoice, or delete the quote.
You can also create a purchase order to your supplier from the quote if you need to purchase items to fulfill this requirement.
Orders
The Orders tab filters and displays any sales orders that you have keyed into ABSS for the selected period.
In this tab, you can select to create a new order, receive a customer's payment for an order, change the order to an invoice and create a purchase order to your supplier.
Open Invoices
The Open Invoices tab displays invoices for the period that have not been paid in full by your customers.
You can receive payments from customers as well as create a new invoice from this tab.
Returns & Credits
Returns and Credits are for credit notes that you have issued to your customers.
Here, you have the option of either paying a refund to the customer, or applying the credit against an invoice that is still owing.
You can also create a new sales invoice by clicking on the New Sale button.
Closed Invoices
These are invoices that have been fully settled during the selected period.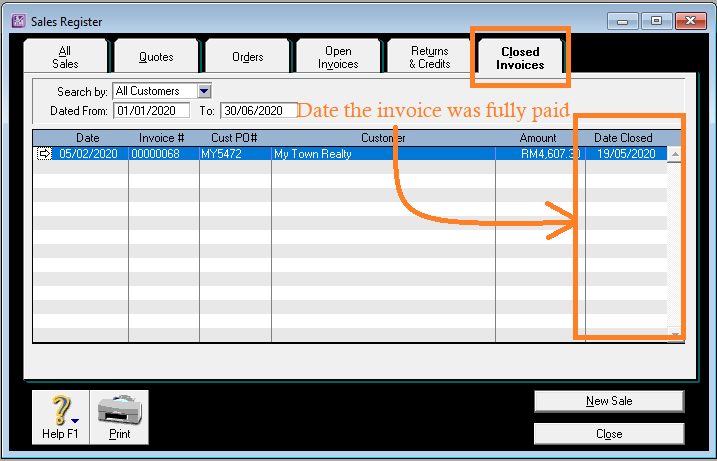 The column to the right displays the date on which the invoice was paid.
Viewing document details or edit/delete a document
To view, edit or delete an existing invoice, quote, order, etc, either double click on it, or click on the drill down arrow next to it.
---
Explore the ABSS Sales Register in this video