To Do List ABSS menyediakan gambaran keseluruhan maklumat untuk membantu anda melihat perkara yang memerlukan perhatian anda.
Untuk memaparkan To Do List, klik pada pilihan di bahagian bawah sebelah kiri Command Centre.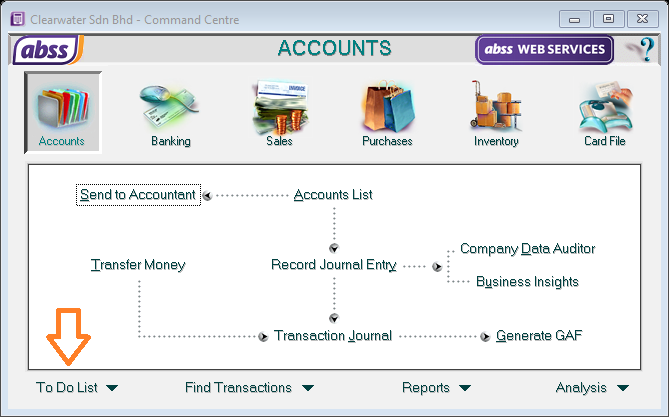 Terdapat 9 tab dalam To Do List.
AR – Akaun belum terima,
AP – Akaun belum bayar,
Recurring transactions – Urus niaga berulang,
Recurring sales – Jualan berulang,
Recurring purchases – Pembelian berulang,
Expiring discounts – Diskaun yang akan tamat tempoh,
Orders – Pesanan jualan,
Stock alert – Makluman stok, dan,
Contact alert – Makluman hubungan.
Terokai setiap tab berbeza dalam video ini.