Released March 2021
In this release, ABSS has extended the tax code, company name character limits, and improved time for report generation.
Extended Tax Codes characters limit
To cater to the various length of the tax code characters provided by the authority, ABSS have extended the maximum length of tax codes field from 3 to 10 characters.
All relevant screen displaying the tax code field has been expanded accordingly.
Two additional ageing periods
With the 2 additional periods, you can now extend the ageing report over 5 periods.
Preference Setting
To set up the additional ageing periods, go to Setup-> Preferences -> Reports & Forms.
Note: The default ageing days for 4th and 5th columns are additional 30 days and 60 days of the 3rd column.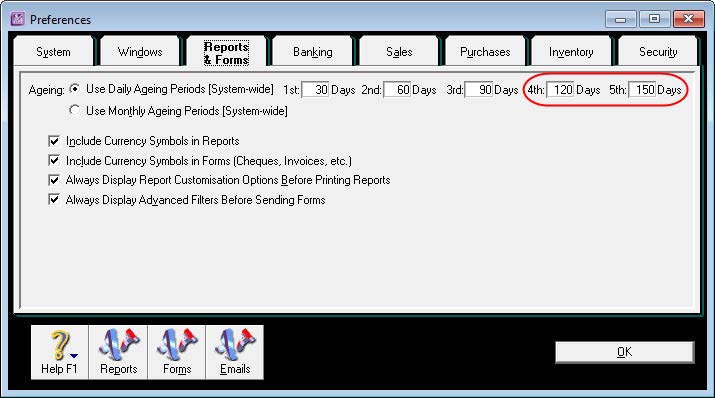 Easy Setup Assistant
Additional ageing periods in Easy Setup Assistant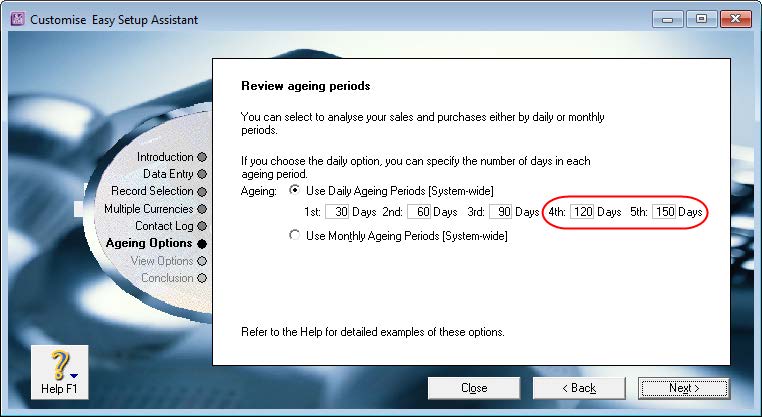 Accounts Receivable and Payable Reports customisation
The additional ageing periods are available in the Report Customisation window for both Receivables and Payables.
Ageing Summary
Ageing Detail
Reconciliation Summary
Reconciliation Detail
Statement of Account (SOA) customisation
The 4th and 5th ageing period fields are now available in form customisation for Statement of Account.
This applies to both, Activity and Invoice Layout.
Report templates
The following form templates have been updated accordingly:
Statement of Account Invoice Layout
ABSS Premier's Plain Paper Statement
C_STATEMENT
Pre-Printed Statement
Statement of Account Activity Layout
ABSS Premier's Plain Paper Statement
Pre-Printed Statement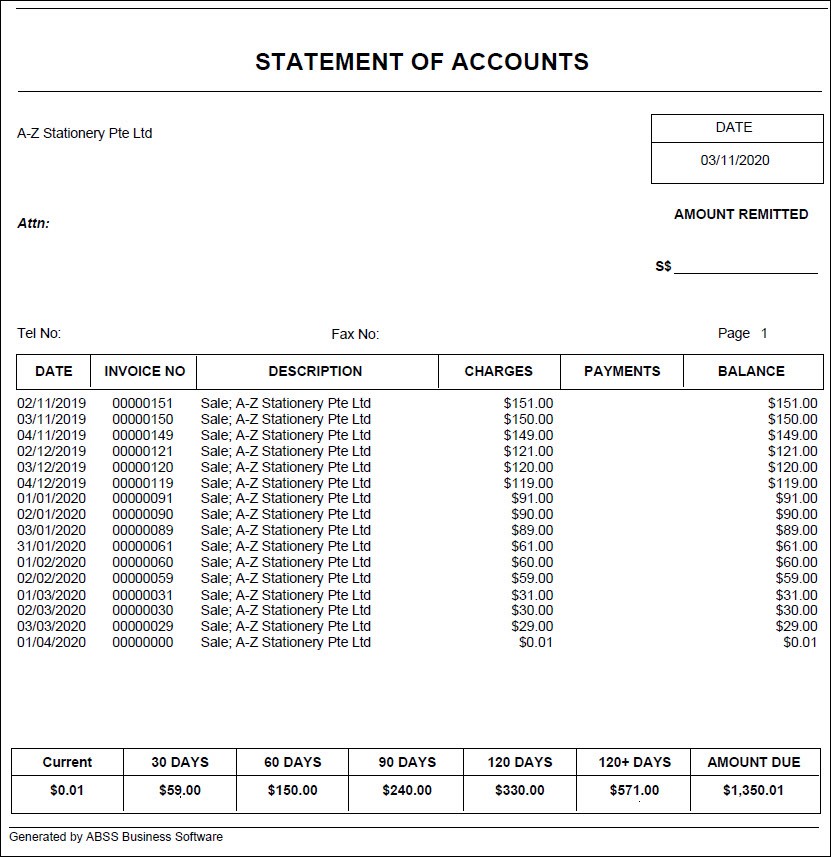 Improved report generation speed
General Ledger, Customer Ledger, Supplier Ledger
ABSS has enhanced and reduced the time required to generate General Ledger, Customer Ledger, and Supplier Ledger reports.
This ensures a smoother process when generating reports with larger volumes of data.
Company Information update
The Company Name field now supports up to 80 characters.
A new field, Contact Person, has been added with 80 characters limit.
Send To Excel Xlsx File Feature enhancements
The Send To Excel Xlsx file feature now supports both traditional and simplified Chinese languages based on user-defined system locale.
Free consultation & demo
Interested in ABSS, but not sure if it is the right solution for you?
Attend our free webinar to learn more about how ABSS can help you manage your business better.
Try before you buy
Want to try out ABSS for your self?
Request a free trial version download.
Upgrading to a new version
If you are using an older version, you can upgrade to the latest version.
What's new in Accounting and Premier